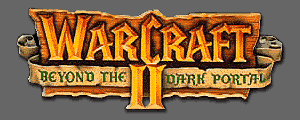 "WarCraft II", by Blizzard Entertainment, was named both Game of the Year and Best Multiplayer Game of 1995 by some of the industry's most prestigious publications. Cyberlore was hired by Blizzard to create an expansion set for this prestigious title. The result, "WarCraft II: Beyond the Dark Portal", was extremely well-received. Continuing the line's tradition of critical success, "Beyond the Dark Portal" scooped Computer Gaming World magazine's "Premier Award" for Best Enhancement of an Existing Game for 1996.
"WarCraft II" is a real time fantasy war game. You take command of an army, either the orcs or the humans, and wage war against the computer or up to seven other human opponents. You build and protect support structures, such as lumber mills, blacksmiths, stables, keeps, castles, wizard's towers, churches, shipyards, barracks, foundries, aviaries, and more and then, depending on what buildings you have chosen to establish, you can choose from a wide variety of ground, sea and air troops - some have spells, some fight hand to hand, others use missile weapons. Many races come to battle, including elves, dwarves, goblins, trolls, ogres, death-knights, dragons, orcs and humans.

"Beyond the Dark Portal" is a full scale expansion set. It includes two new do-or-die campaigns, with twelve scenarios each. For the first time ever, the game will take you through the Dark Portal and into the Orc's homeland. The campaigns add a new, and strategically vital, feature: The Hero. These battlefield commanders are now much more powerful than regular troops, and may help swing the tide if your forces are outnumbered. For multi-player fun, or single player challenges, there are also over 60 new scenarios. And, for your viewing pleasure, there is one new tileset, depicting the strange Orc world, and two new powerhouse cinematics to reward you if you are victorious.
CRITIC'S REVIEW
Elloitt Chin, COMPUTER GAMING WORLD 9/96
"With all the new features, the much more challenging and intelligent scenarios, and the new campaign, BEYOND THE DARK PORTAL is a must-buy for any WarCraft II fan....All gamers who enjoyed their sojourn to Azeroth and wanted to stay longer will definitely want to experience this rewarding encore to an already wonderful game."
Warcraft® II © 1996 Blizzard Entertainment, Inc., All Rights Reserved