During the week of August 11th, Hasbro Interactive and a very small delegation from Cyberlore Studios went to Milwaukee, Wisconsin to eat bratwurst, drink beer, and attend the annual Gencon Gamefair.
Gencon is the single largest gaming convention for gamers of all types. It's run by Wizards of the Coast - makers of fine games like Magic: The Gathering® and Dungeons & Dragons®. Every year thousands of gamers descend upon the show for the sole purpose of immersing themselves in gaming.
This year the second biggest thing being shown at the convention was the latest edition of the Dungeons & Dragons Players Handbook (which, as I write this has already sold over 500,000 copies). Of course, the BIGGEST thing there was Majesty: The Northern Expansion (TM) . Hasbro Interactive had a very impressive display and many gamers got their first glimpse of The Northern Expansion right there.
The following is a series of photographs taken by Jay Adan during his stay at the Gamefair. You'll get a glimpse of some of the reasons that this convention is the show that gamers all over the world look forward to every year..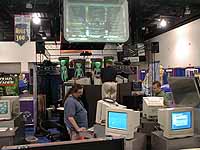 Before the show opens you have to do a little setup. It took a team of experts a full day to prepare the HI booth for launch.
Once the show opens you can see that it's all worthwhile.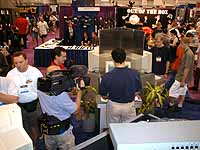 WOTC sent around their film crew to document the wonders to be seen at our booth.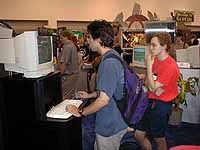 Even though there were several computers running The Northern Expansion at any given time people often had to wait in line for a chance to try it out!